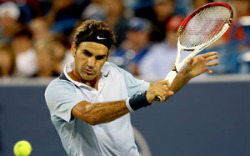 Anyone new to tennis would say the game doesn't have many clay court tournaments if they see Roger Federer's 2016 schedule. From a man who has been trying to crack all impossible, the fans can sense something from his mind. Since 2013, he has been saying he was in the game to enjoy it and results never bothered him. Yet he kept importing weapons and won the podiums.
From his schedule, it is clear that he has seen the shore of his voyage and has decided to use his prey for the fish that he can trap easily. As he needs to play in all three categories at Rio this one is a master move. He has taken clay court season completely off, barring the French Open, where results won't matter him. Monte Carlo, Rome and Madrid, in which he has one title and nine runner ups finishes, will miss his presence. He knows the hope of title is thin there.
He has made Wimbledon his top priority clearly by adding an additional grass court tournament with Halle. He seems to save the bullets to shoot the golden cup. He has to defend 950 points from the missing clay season. If he could manage semis at Melbourne, he can reduce the loss by 600 points. This will not be big threat for seedings at Wimbledon and Rio provided he goes to same level at remaining tournaments as this year.

He has also added that he will enter small tournaments if he is in need of points to maintain his ranking. Fans will be on loads to watch him everywhere he goes as this is the first time Federer has hinted the age factor. The defeat of Roger will need the opponent to turn deaf ears to crowd as every point of his will put the crowd to roar. He may continue long but not ever. Eager fans want Roger to roar for long.
By Venkat Harish