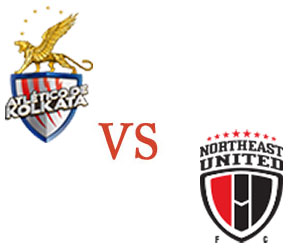 NorthEast United secured their first away victory in 2015 ISL after beating Atletico de Kolkata by 1-0 at Salt Lake Stadium in Kolkata on Saturday. The only goal of the match was scored by Simao (NorthEast United FC) in the ninth minute through a penalty. Kolkata fought hard to make a comeback into this match, but the visitors' tight defence did not allow this. This result has made the points table of this tournament more interesting.
Here are the hits and flops from this match.
HITS
Mohammed Rafique (Atletico de Kolkata):- Rafique made a great impact in this match. He created some good chances for his team. In the 66th minutes, he created a beautiful chance through a beautiful cross for Hume which was spoiled by Bikey's (NorthEast United FC) tremendous effort.
Andre Bikey (NorthEast United FC):- Bikey was top-class this evening. He looked unbeatable in the entire match. He made several useful blocks and tackles to deny chances to the opposition. The best moment was when Bikey cleared Rafique's (Atletico de Kolkata) cross in the 66th minute, which could have been easily netted by Hume (Atletico de Kolkata). He was undoubtedly "Hero of the Match".
FLOPS
Jewel Raja (Atletico de Kolkata):- Jewel Raja was totally clueless in this match. He failed to put any impact and his performance failed to impress the coach and that's why he was sent off at the beginning of the 2nd half.
Nicolas Velez (NorthEast United FC):- This NorthEast United FC's striker needs to be more alert about the position. He fell into the offside trap several times in this match. Also his finishing was not good enough. He needs to put in extra efforts.