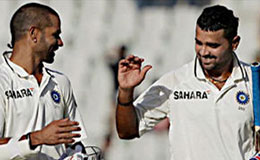 Bengaluru: Having endured a disappointing run the last time the Indian team visited the Caribbean, Murali Vijay is hopeful of turning things around in the upcoming four-Test tour.
At the end of the third Test of India's home series against Australia, in 2008, Anil Kumble called time on his playing career. Just a few days later, in the fourth Test held at Nagpur, M. Vijay made his international debut. The chance to share dressing room space with a legend had thus eluded Vijay. It has been a long wait, but the opening batsman now has the opportunity to pick the brains of India's most successful bowler.
According to media reports, the Tamil Nadu cricketer is delighted to have Kumble on board as national coach. "My first Test match came immediately after Kumble's last, so I couldn't spend a lot of time with him. But I've been a great Kumble fan as a youngster — who hasn't? He was an unbelievable cricketer. It is a great opportunity for us to talk to him about cricket, and to learn from his thought processes. I'm really looking forward to spending some quality time with him," Vijay said on the sidelines of the India camp here on Thursday.
These are, however, early days in Kumble's tenure. Vijay is hopeful that he can learn the tricks of the trade from his decorated coach. "It has only been a couple of days since Anil bhai took over, so I have not spoken to him about anything in particular. But, over a period of time, his presence will be good for us. He has (over) 900 international wickets under his belt — it will be great for us to know what we can expect in a high-pressure match. His inputs will help us batsmen as well," Vijay said.
Asked to compare Kumble's fledgling innings to that of his predecessor, Ravi Shastri, Vijay replied, "We had a great time with Ravi bhai, and now Anil bhai has come in. Hopefully we can have a good time with Anil bhai also.
"The 32-year-old is hopeful of finding form in the upcoming four-Test tour to West Indies. Vijay endured a disappointing run the last time the Indian team visited the Caribbean (in 2011), making only 72 runs in six innings.
"That series was not good for me. Overall, the team did well (India won 1-0), but I did not do well. Hopefully, I can pull it off this time. Obviously, I have some idea about playing in the West Indies. I'll be happy if I can stick to the basics and be as consistent as possible this season.
"And then, of course, there is the added allure of letting your hair down in the exotic islands of the West Indies. "It is a great place to play cricket — itis fun, and there is great competition on the field as well. It is overall entertainment. You can't ask for more."