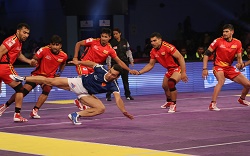 Jaipur: Dabang Delhi KC finally recorded their first win of the season as they beat the Bengaluru Bulls 32-24. A solid defensive performance from Delhi kept the Bulls raiders quiet as Dabang Delhi KC notched up their first win in nine Pro Kabaddi League matches. Sachin Shingade scored seven tackle points and MerajSheykh scored seven raid points for Dabang Delhi.
The win propelled Dabang Delhi KC ahead of Bengaluru Bulls in the table as they climbed to the fifth spot. Bengaluru Bulls failed to score a single point and remained in sixth position with eight points after three games.
Bengaluru Bulls opened their account with skipper Surender Nada scoring a tackle point on his counterpart KashilingAdake in the first minute. Selvamani scored the first raid point for Dabang Delhi KC in the fourth minute and they followed it up with their first tackle point to tie the score at 2-2 after five minutes. After ten minutes, it was a tight game with scores tied at 5-5 and Adake hadn't opened his account yet.
MerajSheykh scored his 100th career point with a do-or-die raid in the 12th minute as Dabang Delhi KC led 6-5. Delhi then inflicted the first all out in the 14th minute and opened a six-point gap to lead 11-5. Sheykh then scored a bonus point in the 18th minute as Delhi ended the half leading 13-9.
With KashilingAdake struggling to get points on board, Sheykh scored with a do-or-die raid in the third minute of second half as Dabang Delhi KC led 15-10. Rohit Kumar finally came into life as he scored two raid points as Bulls reduced the deficit to 13-15. Sachin Shingadeand D Gopuhad a terrific game for Delhi as they helped their team force threesuper tackles as Dabang Delhi led 21-15 with 10 minutes gone in the second half.
KashilingAdake scored two points in the 12th minute of second half as Delhi took a eight-point lead. Bulls mounted a comeback with a super tackle in the 13th minute as they trailed 17-24. With less than three minutes remaining, Dabang Delhi KC inflicted the second all-out to take an unassailable 10 point lead. Sheykhthen scored two more raid points in last few minutes as Dabang Delhi KC outclassed Bengaluru Bulls 32-24.