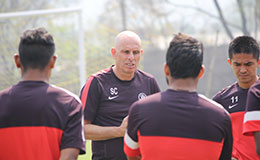 NEW DELHI: National Coach Stephen Constantine has announced his list of 28 Probables for India's forthcoming back to back matches in Russia 2018 World Cup Preliminary Joint Qualification Round 2.
While India travel to Tehran to play 'Giants of Asia,' Iran on March 24, they will host Turkmenistan in Kochi on March 29.
The National Team will be having a small Camp in the Capital from March 16 prior to the departure to Tehran on March 21.
Constantine sounded "excited," when asked about the Preparatory Camp. "The boys would be assembling on March 16 and we will be practicing at the Ambedkar Stadium.
However, as both Mohun Bagan and Bengaluru FC are involved in the AFC Cup, the boys from the two Clubs won't be able to be with us on the 16th," Constantine informed.
"As Mohun Bagan play a Home match in the AFC Cup (on March 16), they will report to the Camp the next day while the boys from Bengaluru FC will report to the Camp as soon as they are back from their away match," he added.
"It's important that we sustain the momentum which we achieved by winning the SAFF Suzuki Cup. Playing in Tehran will be a difficult game for us," he stated. "Without disrespecting Turkmenistan, we want to get the maximum we can from our Home match," he quipped.