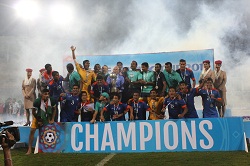 TRIVANDRUM: India were Crowned Champions of the SAFF Suzuki Cup 2015 for a record 7th time as the 'Men in Blue' defeated Afghanistan 2-1 in Extra-Time after the full-time score-line read 1-1, at the Trivandrum International Stadium in Kerala today (January 03, 2016).

It was sheer domination by the 'Men in Blue' in the Finals against 150th ranked Afghanistan. The Indian contingent showcased fluid passing and had they had their shooting boots on, the complexion of the match would've been much different and the score-line contrasting in the Finals.

Nevertheless, the 'Men in Blue' not only matched blow for blow, but struck harder than their opponents as they started the New Year on a winning note courtesy of strikes from Jeje (72') and Sunil Chhetri (101') after Amiri had given the lead to Afghanistan in the 70th minute.

After both Teams entwined for a battle for possession in the early minutes of the first-half, Gurpreet Singh Sandhu made a fine save to deny Afghanistan a sniff at goal in the 8th minute.

While the Indian defence cancelled out the Afghani attacks, the Indian midfield intercepted through balls and mounted attacks of their own.


In the 15th minute, India perhaps had the best opportunity of the first half to open the goal scoring charts and take the lead as a Halicharan shot was thwarted away by the Afghani custodian after it deflected off the Afghani defence line.

The resulting ball fell to Jeje, who could only hit the crossbar with a thumping header, as India were left abegging of the opportunity.

Two minutes later, Jeje once again popped up and shot with venom, however this time around the Afghani keeper denied him the joy of scoring, as he palmed it away.

With the atmosphere at the Trivandrum International Stadium electric, and fans cheering for their county with chants of "India India" fused with the constant beating of the drum, the 'Men in Blue' jotted down some exquisite moves.

In the 33rd minute, Eugeneson found Sunil in the 18 yard box and the Captain showcased immense control as he brought it down to his left foot . Surrounded by two Afghani defenders, Chhetri opted to shoot, only to earn a top-draw save from the Afghani custodian.

Even in the dying embers of the first half, India had an opportunity to take the lead as a Narayan Das rocket-of-a- shot was thwarted for a corner kick. With seconds left on the clock, a Eugeneson corner was cleared away by the Afghan defence line, as both Teams went into the tunnel on level-pegging with scoreline reading 0-0.

Seconds in the second half, Jeje tried to catch the Afghani custodian off position with a lob, which eventually went over the cross bar. In the 55th minute, Eugeneson came close to opening the goal scoring charts for India as his shot whizzed past the post.

Almost immediately, India were denied the lead, this time however by the cross-bar, as a Jeje curler, after a beautiful one-touch play with Sunil Chhetri, rattled the woodwork.

Seven minutes later, it was Halicharan who tried to capitalize on some uncanny defending as he shot from outside the box, only for the ball to hit the Afghani defender and roll away for a corner.

Football is a cruel game and if you not take your chances you pay. And India did pay. In the 70th minute Afghanistan scored against the run of play to make the scoreline 1-0.

The ball finally rolled into the back of the net for India two minutes later as Chhetri found Jeje in the 18 yard box. Jeje, comfortably slotted it past the Afghani custodian to equalize India's deficit and make the score-line 1-1.

In the 85th minute, Narayan Das came close to taking the lead for India, when his chip from 25 yards earned a finger touch save from the Afghanistan Goalkeeper. Two minutes later, a Sunil Chhetri free-kick was fisted away for an Indian corner as the 'Men in Blue' pressed for a goal.

The full-time score-line read 1-1 as the match went into Added Extra-Time.

Coach Constantine refreshed things up and made his first change of the match as he introduced fresh legs – Pronoy Halder for Eugeneson Lyngdoh in the 96th minute.

In the 101st minute, India scored through Sunil Chhetri, after Jeje found him with a long ball, to hand India a solitary goal lead as the score-line read 2-1. A minute later, 'three-lungs' Jairu took to his bike and burst onto the left flank in search of extending India's lead. Although Jairu cut-inside and shot with venom, the shot flied over the bar.

With India leading 2-1 while going into the breather, the second half of extra-time became a test of spirits for the Afghanistan Team.

The Indian defence stood strong and thwarted off the Afghani attacks with sheer acumen. India had an opportunity to double their lead in the 110th minute, but it went abegging as Pronoy Halder failed to connect properly.

With the fans hollering their nation too, spirits of the 'Men in Blue' bolstered as they committed their heart and soul into the remaining time. The fans erupted into euphoria as the full-time score-line read 2-1 and India lifted the coveted SAFF Suzuki Cup 2015.

India starting XI against Afghanistan: Gurpreet Singh Sandhu; Pritam Kotal, Arnab Mondal (117' – Aiborlang Khongjee), Augustine Fernandes, Narayan Das; Rowlin Borges, Bikash Jairu (120' – Sanju Pradhan), Eugeneson Lyngdoh (96' – Pronoy Halder), Halicharan Narzary, Jeje Lalpekhlua, Sunil Chhetri (C).
By Joseph Solomon