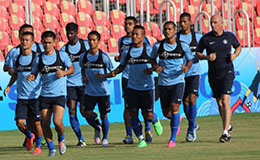 TRIVANDRUM: On paper, it's India vs Afghanistan. In reality, maybe it isn't. 5 and 15 – that's the significant figure which glares at your face.
"Of the registered 20 in our Team, 5 play in Afghanistan while the rest 15 stay and play in Denmark, Germany, USA, Bahrain, Malaysia and other places," Afghanistan Coach Peter Segrt informs. Most of them have Dual Passports.
At the pre-match Official Media Interaction National Coach Stephen Constantine states, "Afghanistan are the favourites because they have 15Players who play mostly in Europe. There is a huge gap between Asian and European Players."
"In fact, after the match against Guam almost all had raised eyebrows saying how we lose to a Country who has a population of 90000 people. But what all didn't realize that it was a Team comprising of US-based Players."
"But we will be playing at Home and I hope the fans cheer behind us and we can use it as an advantage," Constantine adds.
The Indian Team had their Official Training session at 7pm in the evening.
"It's hard to predict as to which area the match would be decided. It will be decided on all parts of the field. It is going to be a very difficult game. They are a Team who can score goals and we need to be careful," he analysed.
Referring to India's 'losing the momentum,' in the 2nd half against Maldives in the semifinal, Constantine said, "In Football, when you are in control of the game, you tend to become a bit sloppy. That's what happened in the semifinal. And if that happens in the Final, we will have to pay the price."
"Obviously with such a young squad and with such little time to prepare in the Championship, it feels nice to be in the Final. We took each game as it came. I want the Players in the Team to feel competition from who are not in the squad. We now have a group of Players who fight and compete for positions."
Can India beat Afghanistan?
Constantine reiterated, "They are a very good side," only to add: "We will fight form the first to the last minute. If we play at our best and they don't have a good day, we can win."
How much important will Sunil Chhetri's role be?
"Sunil (Chhetri) is an important Player as is Pritam Kotal, Narayan Das, Arnab Mondal, Augistine Fernandes and all the others including the substitutes. One is useless without the other. If Sunil plays well and others don't, he won't get much of the ball. Sunil is a great Captain and Leader but I never focus on one Player."
At the Team Hotel, you turn to the Players. "They are a very strong side. They are the favourites," all say in chorus.
"But we will fight."
The kick-off on Sunday (January 3) is at 6.30pm and will be telecast live on Star Sports.

AIFF Media