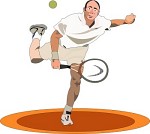 History of Tennis:
The game was first created by European country to be played for entertainment purposes during religious ceremonies.
The modern game of tennis developed in United Kingdom (and known as "lawn tennis")
The first tennis ball was wooden.
Tennis:
Played on flat rectangular surfaces, with a tennis ball and a tennis racquet
Game involving tennis racquet and tennis ball
Usually played between two players (singles) or
Two teams of two player each (doubles) or
It is also played by men and women together (mixed)
Racquet:
The components of a tennis racquet are a handle and neck joining a roughly elliptical frame that holds a matrix of tightly pulled strings.
Racquet has a flat (elliptical) area, composed of strings, used for hitting the ball.
Hitting area is 29inches (32inches until1997) in length and12.5 inches in width.
Ball:
Hollow rubber ball with feather coating.
Earlier white later turned to opaque yellow for better visibility.
Court:
Played on flat rectangular surfaces
Surfaces are usually grass, clay or hard court (concrete/asphalt)
Also played on carpets in indoor games
*Court is 23.77m long and 8.23 meter wide for singles matches (width is increased to10.97m for doubles matches)
The net:
A net is stretched across the full width of the court, dividing it into two equal ends.
The net is 1.07 m high at the posts and 91.4 cm high in the center.
Shots in tennis: (8 basic shots)
1. The serve
2. The forehand
3. The backhand
4. The volley
5. The half-volley
6. The overhead
7. The drop shot
8. The lob.
Major tournaments : 4 grand slam tournaments (the most prestigious tournaments in tennis)
1. The Australian open –January- Melbourne- Hard surface (plexocushio)
2. The French open- May-June – Paris – Clay surface
3. The Wimbledon- June-Jiuly – London – Grass surface
4. The US open- August-September – Hard surface (deco turf)

Apart from that other important tournaments are the Olympic Games, the Fed cup, the Davis cup and the Hopman cup.

*These are the only 8 tournaments regulated by international Tennis Federation (ITF)
Tennis officials:
A senior umpire sitting on a chair adjacent to the net announces the points won.
The line judges make a decision whether a ball is in or out, (an electronic machine to aid the line judge)
The referee, who is usually located off the court, is the final authority about tennis rules. Has the power to overrule umpire's decision, if the tennis rules are violated.
*ball boys and girls are employed to retrieve and pass balls and towels to players.
Normal rules and regulations:
• There are mainly two main forms of the tennis: Singles and Doubles.
• The opposition players stand at the two ends of the net and use a racket to hit the tennis ball.
• The players have to try and hit the ball back into the opposition`s court before it bounces for a second time.
• The ball has to be hit above the net but should land inside the opponent`s court.
• In case none of the above happens, the other player wins a point.
• The players have to try and win maximum number of points, games and sets so that he or she ends up victorious.
• In order to win a set, the players need to win six games and lead by two clear games. E.g.: You win a set if you are leading 6-4 or 7-5.
• In case the score line is 6-6, then a tiebreak is held to decide the result of the set.
• In women's tennis, there are best of three sets while in most men`s tournaments, matches are best of five affairs