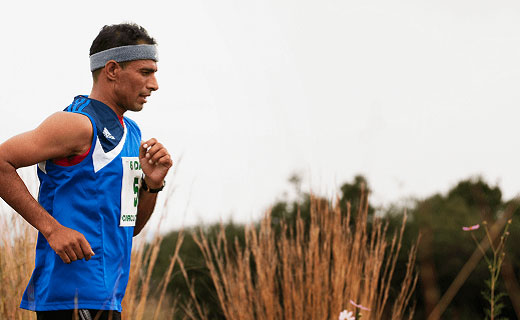 Arun Kumar Bhardwaj is India's sole international ultramarathon racer
When the whole world sleeps at night, this marathoner comes out on the Delhi roads to practice. Not that he is nocturnal, but only to ensure that his passion and ambition do not come on the way of his responsibilities—be it towards his family as a father, husband or son, or be it his employer (the Planning Commission) where he works diligently full time to the best of his capabilities.
The word impossible does not exist for this man and he lives by the never-give-up attitude. He wants to run beyond everyone's imagination and his greatest strength is his faith that helps him overcome all the physical pains, mental botheration and fatigue and makes him indefatigable.
That's Arun Kumar Bhardwaj--India's sole international ultramarathon racer, who recently won the George Archer Six Day Race, covering 567 km in six days. The 40-year-old dreams high and is ready to fight all odds to become a great source of inspiration for the coming generations. After his many accomplishments--including his name in the Limca Book of Records as a national record holder by covering 550-km (Delhi-Chandigarh-Delhi) in 122 hours, 45 minutes in 2004 -- so far, he has his target set on covering plus 275 km in 24 hours. He also wants to complete over 400 km in 48 hours and over 1000 km in six days. He also aspires to finish and win every race of SCMT (upto 3100 miles).!
A LATE STARTER
Arun Bhardwaj wasn't quite the sporting kid in school and didn't pursue any sport in college either. He entered the sports world at 30 when it's time for most to hang up their boots. Despite, a late start, the man from Dwarka has achieved a lot in his eight-year career.
"Till the ninth standard I was very weak. I weighed only 26-kg. Though I always watched Olympics and Asian games on TV and loved sports, I was never into it in my school and college. It was only after I became a father that I got this urge to make my daughter a sports woman. We (me and my wife) named her Zola (after the name of legendary South African sprinter). Both of us wanted her to win an Olympic gold for India in the future. And then I realized that to inspire my daughter, I should be the best source first. I started running to inspire her, but with time it became my passion as well. Later, I named my other daughter (Sofia) and my son (Yiannis) on the of other champion athletes and hope to inspire all of them to be world champions," says Arun, who became the first Indian to cross 300 miles in six days in the Australian six-day race in 2002.
THORNY PATH

Arun enjoys pushing himself to his limits. The pure spirit of ultramarathoners drives him to be a part of them. "Their spirit is matchless and celestial and I am proud to be one of them. When you run beyond imagination, it gives to that inner strength and the sense of exceeding and that propels me to keep testing my endurance," he says.

But behind these unimaginable feats lie dedication, hard work and a lot of sacrifice. Arun sleeps for only four hours in a day, while goes sleepless one day every week. "I normally run 160 to 200 kilometres per week. I cover 50 km on weekends and other days it's between 20-25 kms. My workouts are generally on hard asphalt as I cannot afford the luxury of running in the countryside or go for altitude training," he says.

"I carry out my duties as a son, husband and father with full dedication. I go for practice, only after my family sleeps, so that they don't feel neglected. I don't miss my office and practice during the lunch hour at Rajpath," says the runner.

Adding he says that he is so financially constrained that most of the times he could not even afford juice to regain his lost calories during practice.
TRAGIC TALE

Despite achieving reasonable fame and respect among the ultra enthusiasts world wide, Arun is just another runner back home. "Despite such enormous accomplishments, no government agency has come forward to give me any award or financial assistance. My department gives me some support during the trips. So far I have spent nearly Rs 3 lakh from my own pocket. At times I have practiced marathon without shoes because I could not have afforded new kit at that time," rues Arun, whose only constant support has been his family who at times have borrowed money to send the runner to various competitions.
Adding he says that all he wants is the minimum financial support for his trips from the government and sponsors. "Instead, my request files for participating in the tournaments are shuttled from one table to the other. Every time I have reached the spot just prior to the events which does not give me sufficient time to acclimatize to the weather conditions. Or else I would have performed better. The sponsors also don't realise that a real hero advertising for a particular product, rather than a model trying to portray it artificially, will do wonders for companies. All I am asking for is good shoes and kit, nothing more," said Arun.
He informs that in 24-hour Asia Cup 2002, his file was not passed in one shot by the authorities. "It was unsure until the last week. In the six-day race in Australia 2002, about 12-day in advance, I was supported by Planning Commission with travelling and daily allowance but I had no support handler and no proper kit. In the six-day race, Denmark, I borrowed money to participate. Also, in the 100-km World Cup, Taiwan, 2003, I was supported by the organising committee only before 3-4 days of the tournament.
KNOWING ABOUT ULTRAMARATHON

An ultramarathon is any running event longer than the traditional marathon length of 42.195 kilometers (26.21875 miles , 46,145 yards).

There are generally two types of ultramarathon runs, events that cover a specified distance, and events that take place during a specified time frame (with the winner covering the most distance in that time). The most common distances run are 50 and 100 miles, or 50 and 100 kilometers, though several other distances, for example, double marathons, 24-hour runs, or multiday races of 1000 miles or even longer are also contested. The format of these events and the courses covered are quite variable, ranging from single or multiple loops (some as short as a 400 meter track), to point-to-point road or trail races. Many ultrarunning events, especially trail challenges, are characterized by severe course obstacles, such as inclement weather, elevation change, or rugged terrain.

Many of these races are run on dirt roads or mountain paths, though some are run on paved roads as well. Usually, there are aid stations every five to fifteen
km apart, where runners can replenish food and drink supplies or take a short break.
Timed events range from 6, 12, and 24 hours to 2, 3, and 6 days (known as multi-day events). Timed events are generally run on a track or a short road course, often one mile or less.
THE KIT: Runners usually carry energy drinks, water, an extra pair of shoes, in their carry bags. During multi-day events, Arun usually takes four hours of rest or break in 24 hours. The rest period is divided into sections to avoid stiffness to the body.
ARUN'S Story SO FAR:
Arun has run all his ultra marathons without any support team. "Had there been one assistance with me on the entire route, I could have done better", says Arun. He packs all his stuff in his carry bag, and has to manage his food and intake of fluid on his own.
ABOUT ARUN
Name: Arun Bhardwaj
DoB: 24 February 1969
Birth Place: Village Baoli, Distt. Baghpat. UP.
Education: Bachelor of Commerce from Delhi University
Occupation: Govt. Service (Planning Commission, New Delh) India
Height: 5 feet 8 inch, Weight: 65 kg
Family: Wife : Sangeeta, teacher in Central School. Daughters: Zola & Sofia, Son : Yiannis (12.7.2002).
Years of running: On & off for 16 years. Ultras: 6 years
Personal Bests:
180 km in 23.25 hours on 28-29 July 2000 (solo run from Haridwar to Baghpat, UP)
270 km in 33.10 hr on 7-8 November 2001(solo run from Yojana Bhavan, New Delhi to National Ayurved Institute, Jorawar Singh Gate, Jaipur). Indian record for the distance w.r.t. time taken.
138.172 km in IAU Asia 24 hr Track Championships in Taiwan on 2-3 March 2002.(9th place). First Indian representative in any 24 hr Ultra Marathon.
492 km in Australian 6-Day Race 17-23 Nov. 2002 & broke former Indian national record for 6 days race of 478 km made by Tirtha Kumar Phani in 1987. Thus, became first ever Indian to cross 300 miles in six days race (15th Place).
516 km in Self-Transcendence 6-Days race, New York 27 April -3 May 2003 and became the first Indian to cross 500 km in a 6-Days race (7th Place).
520 km in Copenhagen 6-Days challenge, Denmark 3 – 9 August 2003 (4TH place).
Became first Asian to complete three 6-Days races within one year, and every time with a new national record.
Finished IAU 100 Km World Cup 2003, Taiwan 16.11.2003. Became first ever Indian to participate and finish any 100 Km World Cup.
501 km in International Six Days Running Championship, Mexico on 22-28 March 2004 (4th place in age category and 8th Place in general). First Indian representation in any Mexican ultramarathon championship.
10.532.8 km in Erkrath International 6-day race, Germany, 1-8 August 2004. Placed 15th. New Indian Record.
550 km in 122.45 hr Delhi to Chandigarh and back.
MIR Marathon, Moscow, finished in 3.56.45 in –4 Deg. Celsius and Rain. (My first ever marathon)
153 km in 24 hr Open Championship of Russia, 7-8 May 2005. Became the only Indian in the history of Russian Ultramarathon.
558 km in 20th Australian Six Days Race, 20-26 Nov. 2005. 14th / 36. New Indian & South Asian Record. Got 26th place in the world rankings for 6-days races in 2005.
521 km in Greek 7-Day Race, April 1-8 2006 (on a hilly course).
3.34.56 Marathon, Meerut 22.Dec.2006. (My second marathon)
370 km in 74.37 hrs i.e. Delhi-Shimla from 1 Feb to 4 Feb, 2007.
Won the George Archer Six Day Race, covering 567 km in six days (March 29-April 4 2010).
Indian Sports News Network