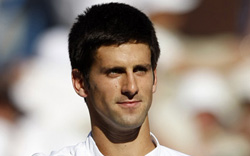 Laureus Academy Member Boris Becker, winner of six Grand Slam singles titles and now coach to Novak Djokovic, here gives an insight into the world No.1, who has just been nominated again for the Laureus World Sportsman of the Year Award, which he won in 2015.

Excerpts from the interview to www.Laureus.com:

Laureus Host: Novak Djokovic has been nominated for Laureus World Sportsman of the Year Award. He described 2015 as the best year of his life? What are your views?

Boris Becker: Well, we're very happy that Novak is nominated this year, again. He won the Sportsman of the Year last year, and he's had a great year again. He's played 88 matches, has won 82, He won three out of the four Grand Slams, reached the final of the French Open, he's won seven other tournaments. Very few players, if any, had a year like that. You mention Roger Federer's year, of course, in 2004, but the list is very short and Novak is proud to be in that group.

Question: What makes Novak so special?

Boris Becker: He has an incredible amount of motivation to win. It's not the first time he's winning Grand Slams, but he keeps on getting better and better. Most players when they've won so much already, they lack a little bit in hunger, but Novak's different. You know, he puts his life completely under a big umbrella of tennis. He's happily married and proud father of their first born son. His private life is very settled, he's very comfortable, very much in love. I think he can focus all the other energy only on tennis.

Question: He had a difficult childhood. Has that contributed?

Boris Becker: He was not raised with a golden spoon, that is correct. He was born in war-torn Serbia and they had to leave their apartment a couple of times, because bombs were over their heads. Imagine that. I think that that defines your life. That defines your character. I call him, in the best possible meaning of the word, a real street fighter. You don't want to go into battle one-on-one with him, when he's ready for it. I think that that shows in his matches. That shows when he has to play five sets, that shows when he has to struggle and overcome difficulties. He's a real tough guy when he needs to be.

Question: What does Boris Becker give him?

Boris Becker: Difficult for me to answer that question. I hope I gave him the few per cent that was needed when he first appointed me as his coach. But I'm not doing this alone. This is a real team effort. I have an assistant coach, conditioning, a physio. There is a whole management team and we all work together. I'm, maybe, the most famous face of them, but it's a proper team. We call each other Team Djokovic.

Question: Was there a Becker / Djokovic moment of 2015 when you feel you made a crucial difference, a key moment in a tournament for example?

Boris Becker: I hope I make a difference every single practice that I do with him, but obviously he is judged by how long he's No. 1 since I came to the team, how many Grand Slams he's won, and a few times he's lost. You gotta go with the headlines. So beating Roger in last year's Wimbledon final, but especially beating Roger in the very difficult environment at the US Open final, were the two most satisfying moments, I think, for both of us. Because you know it was a proper tennis war, especially in New York, where the whole stadium was pro Roger. Just a couple of hundred Serbs and us were supporting our man. And for him to come through that environment was very unique. I don't know how he's done it, honestly.

Question: Is there a way that you communicate on court?

Boris Becker: We are legally not entitled to speak or give signs to the player. And, and in our case, they're watching us very closely. Actually, I think the work is done once he's on the court. Do we scream 'Let's go' and 'Stay strong' and everything? Of course. But I don't think that's coaching in the real sense. You know in the middle of the storm, when everybody goes crazy, I think he looks for us as a place of peacefulness, of serenity, of quietness. And if I would go and jump and scream all the time, I think it would make him more nervous than anything.

Question: When you start the year, do you say we're going to try to win every match, or do you have a game plan?

Boris Becker: We certainly have our priorities, our highlights, but it always starts with the next match. You know, you're only as good as your last match. A lot of people have asked us this year 'OK, how do you want to top last year?' I say it's not about last year, it's about now. It's about trying to do the best we can. It's match-by-match, tournament-by-tournament. If we have this conversation at the end of November, and he's won a couple of tournaments again, we are all happy.

Question: Why is he so good at the Australian Open; six wins in nine years?

Boris Becker: Emotionally he comes back to Melbourne, remembering that was the first Grand Slam he's ever won. So he has a good feeling once he sets his foot on court. The surface suits him, it's medium pace, I think the Australian supporters really love him and he gives it back. And after the winter break, you're always eager to play. You're fresh, you have recharged your batteries and you want to play well.

Question: From the 2015 Australian Open, can you pick one moment from the two weeks?

Boris Becker: I think the semi-final against Stan Warwinka. Five sets, that was tough. The year before Stan beat him in the quarter final in five sets, and these two have a history, especially in Melbourne, of having long matches, of having five sets. So that was the crucial one. But so was the final with Andy. I mean, the first two sets, it was 7-6, 6-7. They played two hours and thirty minutes already, for two sets. I think both were physically struggling. They went through ups and downs. And for him to weather the storm, early in the third set, and then come back in the fourth, and then win it at 6-0 just tells the story.

Question: Novak went into the French Open on a good winning streak, were you confident? The French was the one Grand Slam he hadn't won.

Boris Becker: He won in Rome and in Monte Carlo and coming off the hard court season he won in Miami and he won in Indian Wells. In the real world you don't win every tournament so coming into the French I was a little worried he was already at his peak. I knew he had to play Nadal in the quarter-final, the nine-time French Open champion, and Novak had never beaten Rafa at the French. So I thought that was already a final in a way. And Novak played the best match he's ever played against him. He won in straight sets. So he played his best match [of the championship] on a Wednesday. Then, on the Friday, he played Andy Murray in the second semi-final. Novak won the first two sets, lost the second set, and then they had to finish on Saturday, which gave him one less day to recover. So when he had to get up early and finish the last set with Andy, Stan Wawrinka was taking it easy. So coming into Sunday, I felt that the tank was already half empty and as the match went on Stan got stronger and stronger and Novak just got a little tired. He's human.

Question: In Team Djokovic is there no feeling that there is something unusual or difficult about the French Open for Novak?

Boris Becker: No. People sometimes don't understand the difficulties of winning a Grand Slam. You know, on paper, it looks easy, but every Grand Slam has its tough matches, a lot depends on the scheduling, rain breaks,

Question: So no change of approach for Roland Garros this year?

Boris Becker: No, we have a very similar schedule this year. He's not thinking about the French until he plays his first match in Paris. You know no tournament was ever won on statistics. No tournament was ever won going back through history. You have to perform every day to the best of your ability and let's see what happens.

Question: There was a story last year that you had a dinner before Wimbledon, after which you and Novak became more friends than just a professional player-coach relationship?

Boris Becker: No. Being a coach of a tennis player is a very personal relationship, different to a football coach who has to deal with 22 players. In tennis it's a one-to-one situation and in order to help him, I have to understand what he's going through. So he has to tell me about his feelings. A tennis match is often decided by your mental attitude and your ability to concentrate and rise to the occasion. For me to give him the right tips and strategy, I need to know where he's at. So he has to trust me 100 per cent with everything. You have to be friends from the first day, I mean you have to be very comfortable. Obviously, you don't become friends overnight, even though we knew each other for years. So it's a process. But you know eventually, after a couple of months and a couple of situations together, we both realised that this is a great match and we can really benefit from each other if we are open. And I think that happened in the first couple of months.

Question: Wimbledon is one of your special places, what kind of assistance, help can you give an experienced player like Novak going into a tournament like that?

Boris Becker: Well, Wimbledon is home for me, and one of my favourite sayings is 'never underestimate the importance of local knowledge.' I know everything here from the Centre Court to the village to the quickest way to get into Chelsea or Kensington. I've played on every practice court. I know the locker room, I know the players' lounge. I've been there for 32 years, so I think that gives us a head start.

Question: There was one match in that tournament where Novak showed his strength of character, against Kevin Anderson, is that right?

Boris Becker: Any Grand Slam has a lot of ups and downs and you always have one match where you struggle. We played Kevin in the round of 16 on Court No.1. Novak is not used to playing on Court No.1, he wants to play Centre Court. Kevin just played a great tournament in Queens. His game is made for grass, so I knew beforehand this is going to be a battle. Kevin played great, he won the first two sets in a tiebreaker, close. And then it was a question of resolve and he showed correct character, he showed his class. As the match went on, he was able to wear Kevin down, up until it got to dark. You know you're in the driver's seat, you win the third set pretty easy, the fourth set pretty easy, darkness. You start over the next morning. Kevin is refreshed, Novak is not yet back to his full level, so you have to really focus. He managed to win 7-5, but it was a struggle.

Question: He played Roger Federer again in the final. He had beaten him in the final the year before, was that just a question of saying 'go do it again'?

Boris Becker: No. I think Roger played the tennis of his life. He hardly lost a service game. I don't think he dropped a set. He beat Murray in the semi-final in straight sets, and the experts were saying the favourite is Roger, not Novak. So it was a question for us, how we take this. It's not just with a push on a button. You think strategy and you talk it over and then you hopefully find the best way for him to play. He got support from his team and he was ready to win.

Question: What's the difference in winning Wimbledon as a player and as a coach?

Boris Becker: It's very different, yet it's very similar. When I'm coaching and when I'm sitting at the Wimbledon Centre Court in the players' box, I feel like I'm playing. I feel like I'm 17 or 18 again, with the same enthusiasm, same fire and the same will to win, but at the same time, thankful that I don't have to do it again, because I'm too old for it. So I'm happy I can put my faith into my player, but the emotions are unbelievable. You know, for me, winning Wimbledon as a player and as a coach, it's just the ultimate thrill.

Question: At the US Open, you must have been fairly confident with two Grand Slam wins already?

Boris Becker: Even though hard court is a favourite surface, Novak had only won once, so we wanted to change something this year, from the place he stayed, to the practice regime, to the whole preparation. Again, Roger played unbelievably, I don't know how he does it at 34, but he's a magician and the crowd were just hoping that this great, great ambassador for tennis wins one more time. They weren't against Novak, but as player, you have to deal with it. I mean, you have to deal with 24,000 people hoping to see an upset. How you deal with it emotionally. So that was difficult, it needed a lot of courage.

Question: The question everybody asks about Novak, can he become the greatest? Can he overtake Roger's 17 Grand Slams? Do you talk about that?

Boris Becker: I think, at the moment, that's far-fetched. That's not something we talk about. That's not on our agenda. That's quite frankly, not our goal. Our goal is to play this year, as well as possible. Win as many tournaments, hopefully win as many Grand Slams as possible – and that's it. Once Novak's career is over, when he's 35, or 37 - I don't know how long he wants to play - then you talk about this. Is that theoretically possible? Of course. Is he healthy enough, good enough? Of course. But, he's only got 11. A lot of people have tried and a lot of people have failed. It's very difficult to win one Grand Slam, let alone five. So let's don't overplay things. It's still a long way.

Question: What about the goal for 2016? Everybody was saying after winning the Australian, you want to go one better than last year, and win all four Grand Slams in the year. Is that a conversation that has taken place, or takes place?

Boris Becker: That's another conversation that is not happening. We don't talk about this. The problem is that the media runs out of superlatives and wants to create an even bigger one. But we don't work like this and we don't think like this. The next goal is always only the next match and the next tournament. And then, we get to November, and hopefully we have had a great year, that includes a couple of Grand Slams. He's got one. The next one is the French. Let's see how he does.

Question: Serena Williams is also nominated. Can you give your assessment of her?

Boris Becker: Well, I call Serena Williams, Superwoman. What this lady does on a tennis court is unbelievable. She's a bit like wine, you know the older she gets, the better she is. She won three Grand Slams last year. She was going for the Grand Slam with the US Open, but lost in the semi-final. Obviously, we were all sad, we were shocked. On the other hand, you got to respect the opponent, but the atmosphere in the the players' lounge in New York was like somebody died. You have to put it in perspective, you know, it's a tennis tournament, and then, of course, she was going for it. But, credit to her, she kept her composure. She took a break in the fall to recharge her batteries, regather the momentum, and the joy of her tennis. She came back to Australia, played a great tournament, lost in the final, but you know life goes on. On the other hand, she's now touching the world record of Grand Slams. She's breaking records that are really old in tennis. She's still young enough to do it, and I believe she will win more Grand Slams this year.

Question: She's got 21 Grand Slams, Steffi Graf's got 22. Margaret Court, 24. If you were a betting man, would you bet on her to at least overtake Steffi and maybe Margaret Court? Could she do it this year?

Boris Becker: I think there's a very high probability that she'll take 22. But 24 means she has to win the three remaining this year. That's difficult. But if she stays healthy, if she stays motivated, if she stays hungry, there is no reason, when she finishes her career, that she has taken Margaret Court's record.

Question: The other tennis Nomination is for the British Davis Cup Team. You had a great record in the Davis Cup, winning it for the first time for Germany?

Boris Becker: I live in Wimbledon, so I'm pretty close to most members of the Davis Cup team. I was very happy for Andy Murray and his brother and the whole team, and Leon Smith, as the coach, to come through. Because it's been a long time. This has been quite a team effort. It says a lot for Andy, he has to play three days. That's very difficult. Travelling to Belgium and playing on clay was difficult. Especially since in the fall, you play indoors, you play on fast surfaces. To find the change is not easy. But he played great under pressure, and they deserved to win. So well done boys.

Question: The Laureus World Sports Awards is being held in Berlin this year?

Boris Becker: As a German, I'm very happy that finally, the Laureus Sports Awards are held in Germany and which better place than the capital, Berlin? I'm sure that the local organisers will do a great job; you know German efficiency. Berlin is a very exciting city, historically. It would be great for the Laureus Academy Members and the athletes to take an extra day, maybe, to see the sights and sounds of Berlin. I can't wait to go and to play sort of co-host within the Laureus Family. I can speak a bit of German too, so that comes in handy.