In New Zealand earlier this year, where the under 19 cricket World Cup was happening, everyone expected an Indian side to bat well and with some kind of authority, which they did with quite ease and style yet the most talked about teenager from the tournament in New Zealand was India's right arm fast bowler- yes you read that correctly not a fast medium but the country's very own fast bowler, Kamlesh Nagarkoti. Cricket experts from all over the world including Sourav Ganguly and Ian Bishop noticed Kamlesh for his raw pace and attitude towards the game. His vital contribution in India lifting the coveted trophy hasn't gone unnoticed either.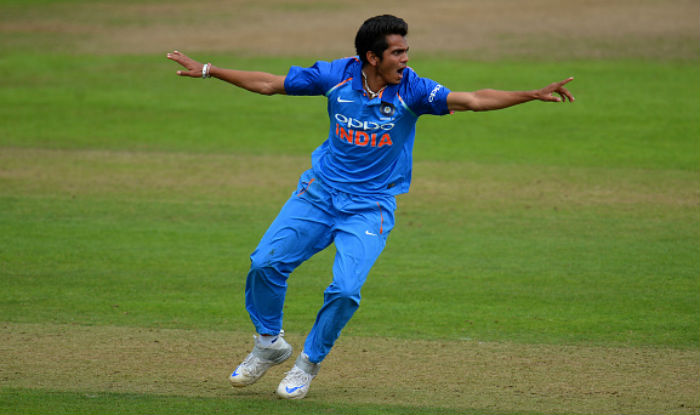 Surendra Singh Rathod, Nagarkoti's coach, has been a difficult person to please. Kamlesh has been a keen and determined student and has done everything that his coach has asked of him and ticked all the boxes in bold- selection in under 19 team, junior challenger trophy, selection in senior Rajasthan team for the Vijay Hazare Trophy, yet his coach would not fulfill his wish for an iPhone. Even after Kamlesh was selected for the Under 19 World Cup squad his iPhone wish remained a dream as his coach refused once again, setting the bar high each time. All of Kamlesh's teammates are owners of iPhone and according to him they often taunt him, since he hasn't changed his phone from the past 2 years. Kamlesh innocently admits that he doesn't want an iPhone X as it is too costly and is ready to settle for an iPhone 7 but still his coach is not buying him one. All of which seems quite surreal in the present time.
Kamlesh's extra pace has been his Unique Selling Proposition throughout. He has clocked above 140 KMPH regularly sometimes even close to 150 KMPH, unheard of at the U-19 level. Ever since his family moved to Jaipur and his coach Rathod saw him bowl at the Sanskar Cricket Academy with his elder brother, his pace has attracted eyeballs. Until his time at the Sanskar Academy, Kamlesh had a typical army kid life, constantly moving, before finally settling in Jaipur. A lot has been spoken about Kamlesh's fantastic upright perfect wrist position at the time of release of the ball, something which he credits his coach for. Initially it wasn't falling in place for Kamlesh but then Rathod studied Kamlesh's action and found that since his head was not stable during the release it negatively affected his wrist position. From the time Rathod and his pupil have reworked Kamlesh's action his wrist position has made the ball talk sharply and more importantly Kamlesh has gained a lot more control over his bowling.
Thanks to his fantastic wrist position, Kamlesh has honed a skill which many Indian bowlers have found it impossible to imbibe or have taken up the skill very late in their careers- the reverse swing. This could very well give him the edge over all the other pacers in the country. Kamlesh has been spotted bowling the perfect reverse swinging yorkers too and that puts him in a league of his own.
Understandably, though, Kamlesh laments his desire for an iPhone to his coach who has been an extended family to him. It was him who brought him from Army School in Jaipur to Sanskar Academy because there was no proper cricket program in the Army School. Then he even convinced the school management to reduce the talented cricketer's fees as his family couldn't quite afford it. He would cycle 15-20 kilometers a day to attend the academy and during the off season- it was his coach that he would spend most of his time with.
Cut to present, all of this is a thing of the distant past. Kamlesh is the highest paid junior cricketer in the Indian Premier League, worth rupees 3.8 crore (highest amidst everyone who featured in the U-19 World Cup), Kamlesh can now buy 100s of iPhones for himself with the money he is being paid to represent Kolkata Knight Riders in IPL Season 11. But this price will bring along with it certain kind of expectations and maybe a subtle pressure and as a player if you start thinking about it, it might show up as a huge hump on your back or an albatross around your neck. The only thing that Kamlesh should focus is on his own game and nothing else, rest all is secondary. One need not go too far to have a case in point, Kamlesh must not do unto himself a Pawan Negi kind of a season where Pawan let the pressure of expectation and price affect his skills and performances on the Cricket pitch.
Playing amidst high expectation is not new to Kamlesh, who played in the Vijay Hazare Trophy for Rajasthan and even took a hat-trick against the Gujarat. But the IPL experience will certainly add a newer dimension to Kamlesh's game, playing alongside some of the best in the world and experiencing cricket at the ultimate level.
His parents are still getting used to watching him on TV. His father often gets emotional and his mother who Kamlesh claims to be his biggest supporter has only one piece of advice for him to concentrate hard on his game and to try and play for the senior national team one day. That being said, as of now the pacer is looking to work upon only one aspect of his game, his celebration style which he wants to model on Cristiano Ronaldo's. After all, he is only 18.