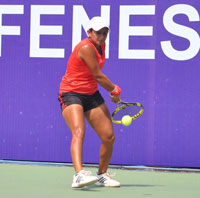 New Delhi: At the Fenesta Open National Tennis Championship top seed Shweta Rana came back from a set down and had to battle hard against Delhi girl Riya Bhatia, who looked in complete control in the opening set before she ran out of steam at the R.K. Khanna Tennis Complex on Tuesday. The top seed Shweta fought hard to win the battle 4-6, 6-3, 6-2.

Shweta managed to break Riya twice in the first set but her opponent did well to return the favour thrice to take the initial lead. Fourth seed Sharmada Balu also had to battle hard against the experience of Simran Kaur Sethi, who ultimately ended on the losing side with a 6(3)-7, 5-7 verdict.
The script suddenly changed for Shweta in the second set when she looked more determined while Riya was far from convincing as the match progressed.

Snehadevi Reddy caused the first major upset at Fenesta Open National Tennis Championship with a strong win over fourth seed Bhuvana Kalva to move into the second round of the women's singles Bhuvna who was dispatched 6-2, 6-2.
Rushmi Chakravorthi the seed 8 had an easy win against Damini Sharma 62,75.
In the men's singles, P.C. Vignesh also made it to the second round without any hiccups against Tamil Nadu boy Fariz Mohammad, whom he overwhelmed 7-5, 6-4. Fariz did well to hold his serve but did not get the opening that he was looking for against the former national champion.
Vignesh broke Fariz in the 12th game of the opening set and the Andhra boy carried the momentum into the next set. In the other matches of the men's singles, Ajay Yadav defeated Abhijeet Tiwari 4-6, 6-3, 6-4, while fourth seed Chandril Sood had an easy outing against S.D. Prajwal Dev, who lost 4-6, 1-6.

Nitten Kirrtane of Maharashtra also recorded an easy 6-1, 6-2 win against P.S. Kumara Adavelly and Atishay Jain also moved into the second round with a 6-0, 6-1 demolition of Vilasier Khate.

Eighth seed Kunal Anand got the better of Sagar Ahuja 7-6(4), 3-6, 6-1, while Saurav Sukul defeated Ajai Selvaraj 6-4, 6-4.
In the boys' under-18, second seed Hardeep Sandhu joined Shaikh Abdullah in the second round with a 6-4, 6-4 win against Yash Yadav. Prajwal Dev knocked out Vikrant Dahiya 7-5, 6-1 and Udayan Bhakar shut the door on Rain Pandole with a 6-4, 7-5 win in the opening round.
Mens Singles
Ajai Selvaraj Vs Saurav Sukul (Seed 7) Winner Saurav Sukul 64,64
Sagar Ahuja Vs Kunal Anand Winner Kunal Anand 76(4),36,61
Atishay Jain Vs Vilasier Khate Winner Vilasier Khate 60,61
Abhijeet Tiwari (Seed 5) vs Ajay Yadav Winner Ajay Yadav 63,64
Nitin Kirtane (Seed 3) Vs PS Kumara Adavelly Winner Nitin Kirtane 61,62
SD Prajwal Dev vs Chandril Sood Winner Chandril Sood 64,61
S Sai Saran Reddy vs Anvit Bendre Winner Anvite Bendre 61,62
Fariz Mohammed vs P C Vignesh (Seed 2) winner Vignesh 75,64

Ladies ( 3 matches remaining)
Shweta Rana (Seed 1) vs Riya Bhatia Winner Shweta Rana 46,63,62
Swetha Sree Hari vs Devanshi Bhimjiyani Winner Devanshi Bhimjiyani 60,62
Manya Nagpal vs Teertha Iska Winner Manya Nagpal 61,75
Snehadevi Reddy vs Bhuvana Kalva Winner Snehadevi 62,62
Simran K Sethi vs Sharmada Balu Winner Sharmada 76(3), 75
Varunya Chandrashekhar Vs Karman K Thandi Winner Karman K Thandi 63,61
Rushmi Chakravorthi Vs Damini Sharma Winner Rushmi Chakravorthi 62,75
Boys 18 (All Matches done)
N Pondkule Vs BR Nikshep Winner BR Nikshep 63,62
Hardeep Sandhu (Seed 3) vs Yash Yadav Winner Hardeep Sandhu 64,64
Prajwal S Dev vs Vikram Dhaiya Winner Prajwal S Dev 75,61
Shaikh Abdullah (Seed 1) vs Akhil Kanagara Winner Shaikh Abdullah 63,63
Udayan Bhakar vs Rain Pandole Winner Udayan Bhakar 64,75
Deepak Vishwakarma vs Nikki Pooncha Winner Nikki Pooncha 62,36,76(4)
Balaji Lakshmanan vs Omninder Baisoya Winner Balaji Lakshmanan 62,62
Rahul Robinson vs Amamath Arora Winner Amamath Arora 76(1),62
V Vijayaraman vs VG Paramatmuni (Seed 6) Winner Paramatmuni 63,64
Aryan Goves (Seed 7) vs Ankush Arora winner Aryan Goves 75,64
Vidit Vaghela vs Shrey Gupta Winner Shrey Gupta 61,62
Mukund Sasikumar vs Adavelli Kumara P (Seed 4) Winner Mukund Sasikumar 64,64
Nikhil S Mannepalli vs Parikshit Somani Winner Parikshit Somani 61,63
Shashank Nautiyal vs Aditya Deswal Winner Shashank Nautiyal 62,46,10 6(4)
Anush Dheer Bhatti vs Anvit Bendre (Seed 5) Winner Anvit Bendre 63,61
Vinod Cheruku vs Dalwinder Singh Winner Dalwinder Singh 46,61,63

Girls 18 (All Matches done)
Simran K Sethi (Seed 1) vs Mansi Reddy Winner Simran K Sethi 62,61
Vineeta Singh Vs Karman K Thandi (Seed 5) Winner Karman K Thandi 61,61
Devabshi Bhimjiyani VS Arushi Kakkar Winner Devabshi Bhimjiyani 61,60
Gayatri Kumaraiah Vs Sathwika Sama Winner Sathwika Sama 64,61
Shristi Salaria Vs Zee Desai Winner Shristi Salaria gets a Walk Over from Zeel Desai
Rimpledeep Kaur Vs Riddhi Sharma Winner Rimpledeep Kaur 60,60
Snehal Mane Vs Iska Teertha Winner Iska Teertha 62,64
Rajbir Kaur Vs Tarannum Handa Winner Rajbir Kaur 52 (Retd)
Rajshree Rathod Vs C Sai Samitha Winner C Sai Samitha 63,61
Moulika Ram Vs Nehal Sahni Winner Moulika Ram 75,67,63
GS Vasavi vs Eesthita Pande Winner Eeshita Pande 63,62
Baani Singh vs Vanshika Sawhney Winner Vanshika Sawhney 63,61
R Abinikka vs Akshara Iska Winner R Abinikka Winner R Abinikka 63,75
Vaishnavi Peddy Reddy vs Mihika Yadav Winner Mihika Yadav she gets a walk over
Himani Mor vs Harsh S Challa Winner Himani Mor 60,61
Ramya Natrajan vs Jennifer Luikham Winner Jennifer Luikham 64,76 (8)