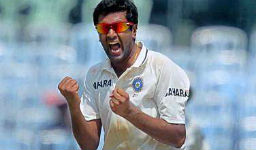 A tall right-handed boy from Tamil Nadu, a BTech in Information Technology, an opening batsman in junior cricket, the story of Ravichandran Ashwin is as inspiring as it can get. Ashwin is one of those cricketers who likes thinking and analyzing his game a lot, which maybe has helped his sporting career and has made him one of the very best in world cricket when it comes to off-break bowling. And it wouldn't be an understatement to call him a bowling all-rounder.
Ashwin came to limelight when he became a regular strike bowler for the Chennai Super Kings in the Indian Premier League and Champions League T20 Tournament. In fact, Ashwin emerged as the top wicket-taker in the 2010 Champions League with 13 wickets and was adjudged as the player of the tournament.
This was also the beginning of a wonderful partnership in world cricket, the MS Dhoni-R Ashwin partnership. It helped Ashwin's cause that he played under the national captain in franchise cricket. And soon after his "Man of the Tournament" performance he was selected in the national squad which toured Zimbabwe.
Ashwin has never looked back from there. Every experience that he has had has always bettered him as a cricketer. Perhaps that is the reason that since 2011 Ashwin has won seven "Player of the Series" awards in Test Cricket and one in T20 International cricket. He is the fastest Indian to pick up 50, 150, 200 Test wickets.
There is always that phase in a sportsperson's career when a youngster tries too many things to be at the top of his game, Ashwin probably has got over that phase. It is very important during that phase to be trusted by your skipper and that's when Dhoni was perhaps a blessing in disguise for Ashwin who stuck with him even when he wasn't his best.
Ashwin under Kohli is only a result of Dhoni showing faith in him during his immature phase. And now when the reign of Indian Test Team is in the hands of Virat Kohli, no wonder Ashwin is his go to man. Need a breakthrough, Ashwin; Stop the flow of runs, Ashwin; Open the bowling, Ashwin; Need a bowler who can bat up the order; Ashwin. It is Ashwin's adaptability to changing formats and conditions that makes him special. Ashwin initially was a better limited overs bowler, but with time he is one of the best in Test cricket.
Ashwin's variations are hard to pick, yet it's his original off break that gets him the wickets because the variations sets the wicket for him. He can bowl the arm ball, the carrom ball, even the leg breaks. In recent years, Ashwin has developed the 'slider' which he bowls with seam up and the bowl seams rather than spin.
No wonder he will be key to India's success in Test cricket and limited overs cricket because of the kind of impact he has on the game.