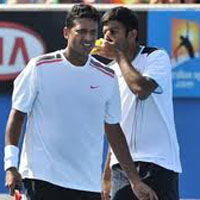 Rome: Mahesh Bhupathi and Rohan Bopanna lost to Mike and Bob Bryan to finish runners-up at Rome Masters on SUnday. Pair of Mike and Bob Bryan registered the stunning win as they outplayed the Indian duo in straight.

Bryan Brothers showed their dominance as they didn't allow the Indian duo to earn a single break point in the summit clash of the Euro 3,204,745 clay court event and went on to defeat the sixth seeded Indian in straight sets 2-6 3-6.

The Indians lost their serve twice in the opening set and once in the second. This was their first final as a pair this year and they ended up with 76,060 euros as prize money and earned 600 ranking points each for finishing it off as a runner-up.

Bhupathi had won the Dubai event with Michael Llodra while Bopanna had triumphed at Marseille, France with Colin Fleming.
Share Your Views:
---