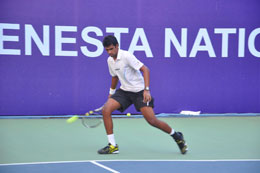 New Delhi: There will be a number of young faces who would look to make their mark in the national circuit as the main draw of the Fenesta National Open Tennis Championships begin at the R.K. Khanna Tennis Complex on Monday.
The men's singles will be a depleted field with top players not available to test their skills at home. But at the same time, their absence will serve as an opportunity for those looking for their big break.
Defending champion Jeevan Neduncheziyan will not be part of the action this year in the men's singles. Arjun Kadhe, who was runner-up to Jeevan last year, will be there and the likes of Nitten Kirrtane, Mohit Mayur Jayaprakash and Siddharth Rawat will ensure that there is competition in the 183-man field.