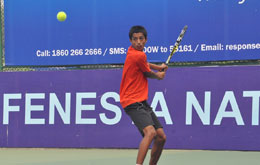 New Delhi: Top seed B.R. Nikshep will battle it out with giant killer Udayan Bhakar for the boys' under-16 title of the Fenesta Open National Tennis Championship on Saturday.

For the girls' under-16 title, it will be Ramya Natrajan against third seed Vanshika Sawhney & also with Mihika Yadav in girls under 14 finals of the Fenesta Open Tennis Championship-Juniors

Both Nikshep and Udayan had to work hard in their respective semi-final matches on Friday but the two did well to fight their way into the final. Nikshep overcame a stiff challenge against Paramveer Bajwa 6-3, 4-6,6-2, while eight seed Udayan earned his place in the summit clash with a 6-1, 7-6(2) win over fourth seeded Aryan Goveas.

In the under-14 boys' final, Nitin Kumar Sinha set up a title clash with Yugal Bansal, while in the girls' category, Ramya will be again in action against Mihika Yadav.