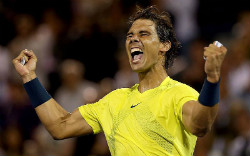 New York: Rafael Nadal defeated Novak Djokovic, 6-2, 3-6, 6-4, 6-1 in the men's final to win his second US Open crown at the Arthur Ashe Stadium here on Monday. It was Nadal's 13th Grand Slam singles title, moving him into third place all-time amond men, just one shy of Pete Sampras' 14 and four behind Roger Federer's 17.
Nadal had missed last year's US Open due to a knee injury, and called it "very, very emotional" to return and win the title. "Probably only my team knows how much [today's match] means for me. Playing against Novak always is a very special feeling. Probably nobody brings my game to that limit like Novak did," he said during the trophy presentation.
In Nadal's last two visit to Flushing Meadows, he had also faced Djokovic in the final. Nadal won in 2010 to complete the career Grand Slam, and Djokovic won the following year.