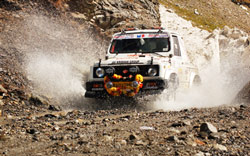 Shimla: Leaving the Dakar Rally much behind, the Maruti Suzuki Raid The Himalaya will take on two of the highest mountain passes in the world this year – the Khardung La and the Wari La.
The Raid, the highest motorsport battle arena globally, turns 15 this year. It will run from October 4 to 12.
The highest altitude that the Dakar Rally touches is approximately 3,000 feet on a competitive stage. The Raiders will race to Khardung La, at an elevation of 5,602 meters (18,379 feet), and the Wari La, at an elevation of 5,250 meters (17,300 feet) above sea level in Ladakh.
In its 14-year history, the Raid has been able to conquer the Khardung La and the Wari La only once. The high mountain passes are marked by such heavy snowfall and blizzards that they have refused to yield way to motorsport enthusiasts from the country and abroad.