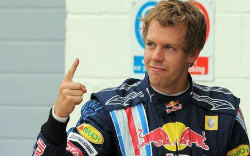 Singapore: Red Bull's Sebastian Vettel won the Singapore Grand Prix by a massive margin of 32.6 over Ferrari's Fernando Alonso, while Lotus's Kimi Raikkonen came third ahead of the Mercedes pair Nico Rosberg and Lewis Hamilton here on Sunday.
With this win the German boosted his championship lead on Alonso from 53 points to 60 with six races remaining.
Vettel said after the race that it's just been a fantastic weekend for him. "The start was close, but then we had strong race pace, especially when the safety car came in, and we pushed very hard to try to build up a gap. You never know what's coming up and what can happen. The last ten laps seemed to go on forever inside the car," he said, adding that he kept his concentration by reminding himself how easily he could make a mistake around here.