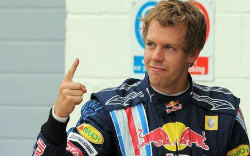 Nurburgring: Sebastian Vettel of Red Bull edged past Kimi Raikkonen of Lotus to win the Germain Grand Prix here on Sinday. The world champion also became the first German to win a German Grand Prix at the Nurburgring in the history of the Formula One world championship.
Vettel's win was his fourth this year and the 30th of his career and it lifted him 34 points clear of nearest rival, Spaniard Fernando Alonso of Ferrari, in the drivers' championship.
Meaanwhile Romain Grosjean finished third ahead of Fernando Alonso while Lewis Hamilton of Mercedes came fifth. Jenson Button of McLaren raced ahead of Australian Mark Webber for the sixth place.