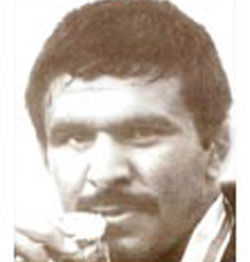 Name of the sportsperson: Mahabali Satpal
Discipline: Wrestling
State: Delhi
Date of Birth: 1st Feb 1955
Major Achievements:

- Won Silver in Commonwealth Games, Auckland in 1974
- Won Silver in Commonwealth Games, Edmonton in 1978
- Won Silver in Commonwealth Games, Brisbane in 1982
Won Golf in Commonwealth Wrestling Championship, Edmonton (1979)
Won Gold in Commonwealth Wrestling Championship, Perth (1981)
Won Bronze in 1974 Asian Games, Teheran
Won Silver in 1978 Asian Games, Bangkok
Won Gold in 1982 Asian Games, New Delhi
Silver in Asian Wrestling Championships, 1979
Silver in Asian Wrestling Championships, 1981
4th Position, World Wrestling Championship, Teheran
5th Position, World Wrestling Championship, Mongolia
6th Position, World Wrestling Championship, Amsterdam
Profile:

Mahabali Satpal Singh Ji has brought numerous medals for the country.The legendary wrestler was born on 1 february 1955 at Bawana,Delhi. Satpal is known as workaholic and highly dedicated wrestler in the sport. As a child Satpal received tremendous encouragement from his parents. Since his tender age he was involved in extreme sports activity. He was a regular to the Akharas where he got his early training. He received his early training from Guru Hanuman. His achievements are countless.
He won bronze, silver and gold medals in Tehran (1973), Bangkok (1978) and New Delhi (1982) Asian Games respectively. He won Silver medal in Christchurch (1977) Edmination (1978) and Brisbane (1982) Commonwealth Games. He represented India in Feather Weight in Munich (1972) and in heavy weight in Mosco Olympics (1980), represented in Tehran (1973) and Edminton (1982) and world wrestling championship (1974) also won silver medal in super heavy weight in Asian wrestling championship (1979) at Jalandhar.
Recieved numerous honours such as Bharat Kumar (1973), Rustam-E-Hind (1974 & 75), Bharat Kesari (1975), Mahabharat Kesari (1975-76), Hind Kesari (1976) and Bharat Balram (1978), National Champion in welter (1973), Middle (1974), Heavy (1978-81) Weight categories.
For this remarkable performances in the field of wrestling, he was awarded the Arjun Award in 1974 and Padamshri in 1983 by Govt. of India. After rendering meritorious services as a player, has been hard at work as additional director of sports and chief co-ordinator of sports, Delhi Govt. & trying to lift the standard of the sports in the country.
Currently he is better known as the coach of Beijing olympic bronze medallist star wrestler Shushil Kumar.Shushil kumar credits his success to Mahabali Satpal.He received the Dronocharya Award in 2009 for his extra ordinary contribution as a coach.
He married his daughter to wrestling star Shushil Kumar.
"Mahabali" Satpal now works as Deputy Director of Education, Delhi. He is also the President of School Games Federation of India. He runs an Akhada for coaching of wrestling with fellow coach Virender Singh from 1988 in Chhatrasal Stadium in Delhi.